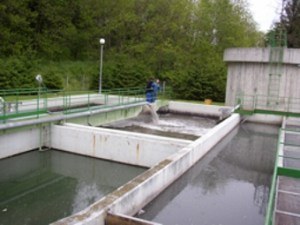 Ljubljana, 9 February 2021 – Government Office for Development and European Cohesion Policy has issued a funding decision for the project Collection and treatment of urban wastewater in the Drava River basin – Reconstruction and upgrade of the Ormož wastewater treatment plant – Municipality Ormož. The project budget totals EUR 3.3. million, of which nearly EUR 2.2 million comes from the Cohesion Fund. The project will be implemented by the Municipality Ormož.  
Major reconstruction works will be carried out on the existing plant as part of the project to ensure that the existing plant is completely renovated and to upgrade its operation by doubling the existing treatment capacity. As a result, further three agglomerations will be connected to the system (Ormož – Hardek, Lent, Ormož – Dolga Lesa) which will receive sewage sludge from small wastewater treatment plants and cesspits scattered across the entire municipality. The newly built administrative building with service premises and landscaping works undertaken in the surroundings of both facilities will round up project works.
The project, which is included in the Agreement on the development of the Podravje development region, seeks to reduce the negative impacts of wastewater on the environment, especially the Drava River.