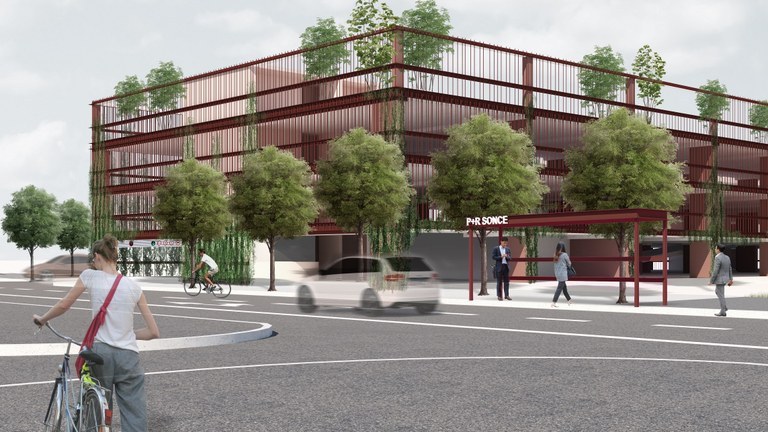 Ljubljana, 23 November 2021 – Government Office for Development and European Cohesion Policy has approved EUR 2.46 million from the European Regional Development Fund for the regional project Park and ride facility Sun. The project is the latest in a series of EU-funded projects that aim to contribute to sustainable urban mobility in order to improve air quality in urban areas. A total of EUR 6.7 million from the European Structural and Investment Funds have been dedicated to park and ride systems across the country in the past seven years.
As part of the project, Urban Municipality Koper plans to build a multi-storey parking structure featuring 464 parking spaces; the parking structure will be located on the outskirts of the Port of Koper. The car park will offer designated parking for families, 24 disabled parking spaces and 48 dedicated parking spaces for electric vehicles, of which 12 spaces will have rapid EV charging points installed. The parking house will additionally provide 26 designated motorbike parking bays (of which two will be appropriate for electric motorbikes), a secure cycle hub accommodating 22 bicycles and a further covered parking facility with racks for 26 bicycles. Public transportation solutions will be offered to the users of the park and ride facility to get to the city centre; there will be a P+R bus service operating regularly and a public bike share scheme providing the park and ride users with convenient access to bikes to complete their journey. The project has been designed to help the municipality reduce traffic volume in the city centre and make the city a more pleasant place to live. It is scheduled to be completed by the end of August 2022.
Government Office for Development and European Cohesion Policy has already approved park and ride projects that have received EUR 6.7 million from the EU in the period 2014-2020. Under the Integrated Territorial Investments mechanism, support has been given to the abovementioned park and ride facility in Koper and to the park and ride hub in Celje. Additionally, EUR 4 million have been allocated under the call for proposals for park and ride systems to systems in Ljubljana-Stanežiče, Krško, Grosuplje, Kamnik, Sevnica, Šentjur and Borovnica. A total of 1,476 park and ride parking spaces are now available to Slovenians thanks to the EU funds.