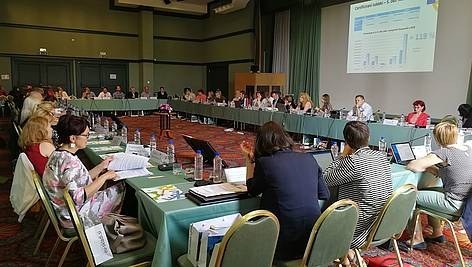 Portorož, 7 June 2019 – The Operational Programme's Monitoring Committee which is composed of the representatives from the ministries, Government Office for Development and European Cohesion Policy, economic and social partners, NGOs, equality organisations, disability organisations, local communities, urban development, councils of regions, Budget Supervision Office of the Republic of Slovenia, Court of Audit of the Republic of Slovenia and European Commission today held its sixth regular meeting.
The meeting was opened by the representatives of the Certifying Authority – Ministry of Finance, and the Audit Authority – Budget Supervision Office of the Republic of Slovenia who presented their respective reports. The Monitoring Committee members were briefed on the state of play of the Managing Authority's IT system (eMA) and on the progress in the implementation of the 2014-2020 financial instruments, Integrated Territorial Investments mechanism and CLLD (Community-led Local Development) instrument. They were further informed about the progress in the implementation of two pilot projects Slovenia has been participating in, i.e. Coal Regions in Transition Platform and Pilot Action: Regions in Industrial Transition. The members were updated on the progress made in implementing the 2014-2020 Communication Strategy and the activities related to the implementation of EU macro-regional strategies and territorial cooperation in the period 2014-2020. They approved the first amendment to the Communication Strategy as well as the Annual Evaluation Plan.
2018 was a strategically important year for the current programming period. Focus was given to stepping up the implementation to meet the n+3 rule by monitoring closely the performance framework and enhancing efforts to deliver on the set indicators. GODC outlined the progress towards achieving the set target milestones under the performance framework and explained how the implementation was advancing. These results will be the starting point for amending the Operational Programme in the second half of 2019. The activities carried out in 2018 are listed and described in the 2018 Annual Implementation Report which was approved by the Monitoring Committee. The latter called on GODC to officially submit the approved AIR to the Commission by the end of June 2019.