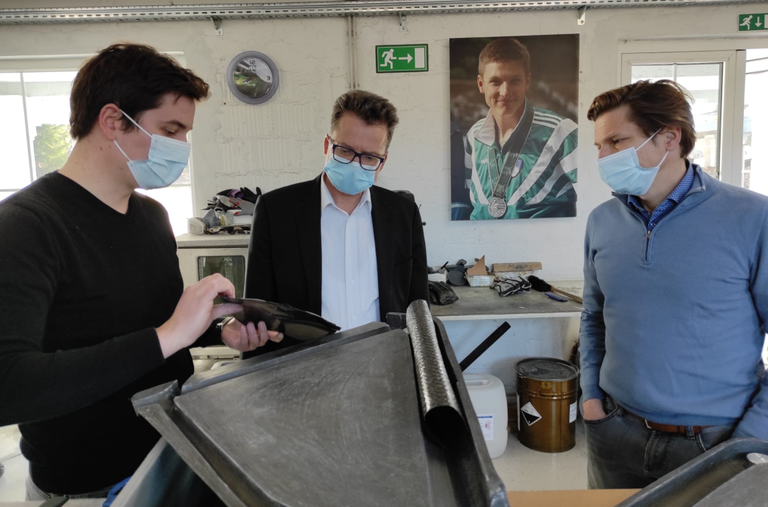 Ljubljana, 8 March 2022 – As part of Government's visit to the north of the Osrednjeslovenska region Minister for development and European Cohesion Policy Zvone Černč visited the project Berk-Vehovar Kompoziti and the Terme Snovik spa, together with the representatives of the Municipality Vodice and Medvode.  
Government of the Republic of Slovenia visit to the Osrednjeslovenska region was two-fold. First, they visited the north of the region, namely the municipalities Dol pri Ljubljani, Domžale, Kamnik, Komenda, Ljubljana, Lukovica, Medvode, Mengeš, Moravče, Trzin in Vodice. The visit to the south of the region will take place in the beginning of April.
Minister Zvone Černač stared his visit to the region in the Municipality Vodice, where he and Minister for Environment and Spatial Planning Andrej Vizjak visited the Primary School in Vodice. After the working lunch with the mayors, where the participants discussed Slovenia's Recovery and Resilience Plan and the possibilities of funding the projects that are important for the region, the Minister visited the company Berk-Vehovar Kompoziti d.o.o. The company, which offers its products to the best cycling teams in the world, presented to the Minister the development of a product that received EU funds support. The Minister underlined: "Top-level products are a way of accessing the most demanding markets. We can take pride in the fact that the highest cycling level is not only represented by our cyclists but also by Slovenian knowledge and entrepreneurship."
In Medvode the Minister was welcomed by the mayor Nejc Smole. He presented topical EU-supported projects and the municipality's plans for the future. They all visited the Basic Primary School Topol that was subject to energy-saving renovation with the help of EU funds.  
The Minister then visited the Terme Snovik spa which enriched its offer also with the help of EU funding. They presented the Kneipp barefoot path product and the plans for the future. They also discussed the specific problems and challenges in tourism which is one of the economic branches most affected during the Covid-19 crisis.   
The Minister concluded his visit to the Osrrednjeslovenska region by attending a public tribune and listening to the mayors, businessmen and other development actors in the region.