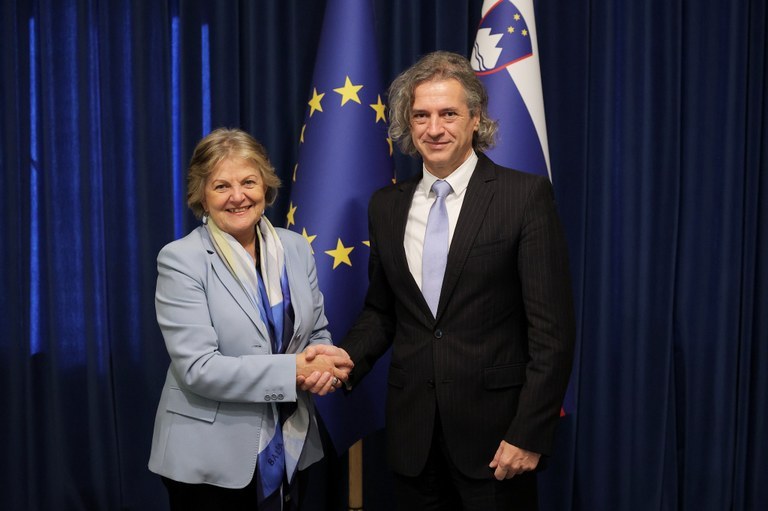 Government of the Republic of Slovenia approved the Cohesion Policy Programme for the period 2021-2027 at today's session. This document - together with the Partnership Agreement that will be signed in Ljubljana today by Minister Jevšek and European Commissioner Elisa Ferreira - represents the basis for the use of EU funds in the programming period 2021-2027 which ends in 2029.
''After taking office in June this year, one of the main priorities of the new government was to prepare the Partnership Agreement and the Cohesion Policy Programme,'' said dr Jevšek, Minister for Development and European Cohesion Policy at a press conference that followed the government session.
According to the Minister, the Cohesion Policy Programme is expected to be approved by development councils of both cohesion regions shortly, which will be followed by official submission for adoption to the European Commission. ''If we duly respect the relevant procedures and deadlines, we hope that the Commission will approve the programme by the end of the year, which is our common goal. We managed to finalise the Partnership Agreement and I am sure that we will be able to finalise the Cohesion Policy Programme by the end of the year,'' the Minister added.     
Dr Jevšek underscored that the key to success is inclusive approach, hard work and close cooperation with the European Commission, the ministries, the government offices, the development councils of both cohesion regions, the economic and social partners. The Minister thanked everyone who participated in the preparation of both documents.  
The Cohesion Policy Programme sets out how Cohesion Policy funds will be spent at the national level. It covers four Funds, i.e.:
Cohesion Fund (whole of Slovenia): EUR 718.19 million;
European Regional Development Fund (separate allocations to Zahodna Slovenija and Vzhodna Slovenija cohesion regions): EUR 1,599.79 million;
European Social Fund+ (separate allocations to Zahodna Slovenija and Vzhodna Slovenija cohesion regions): EUR 635.97 million;
Just Transition Fund (two coal-mining regions: Zasavje and Savinsko-Šaleška region): EUR 258.72 million. The Just Transition Fund is a new fund designed to provide additional support to the people, the economy and the environment in the areas facing socio-economic challenges due to the transition to the EU's energy and climate goals for 2030, and to EU's climate-neutral economy by 2050.