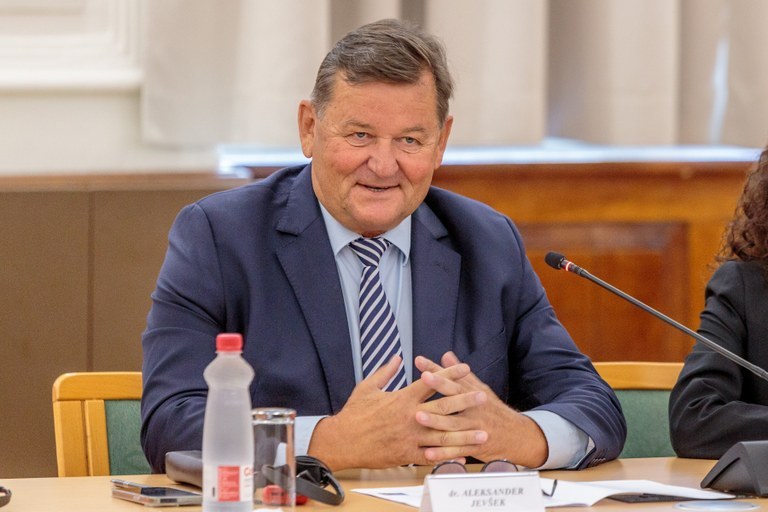 Nova Gorica, 5 September 2022 – Minister for Development and European Cohesion Policy dr Jevšek met with the Mayor of the Urban Municipality Nova Gorica dr Klemen Miklavčič, the Mayor of the Italian Municipality Gorizia, and representatives of the neighbouring Region of Friuli-Venezia Giulia and the joint Assembly of the European Grouping for Territorial Cooperation EGTC GO. The working visit focused on joint cross-border integrated territorial investments (ITI) for urban development.
The working visit took place at the premises of Urban Municipality Nova Gorica and focused on the preparation and implementation of the joint cross-border territorial investment for urban development.
Members of the EGTC GO Assembly are representatives of Municipality of Nova Gorica, Municipality of Šempeter-Vrtojba and Municipality of Gorizia (Italy).
The advantage of the Assembly is that both the Slovenian and Italian legislation pertaining to calls for proposals may apply to infrastructure construction in the frame of EU-funded projects, which are implemented on the territory that falls under the authority of all three municipalities. The instrument facilitates developing a joint conurbation strategy of three municipalities and activity throughout the cross-border area, regardless of municipal borders.    
EGTC GO representatives presented to the Minister the proposal for developing and implementing a joint or linked cross-border integrated territorial investment and gave a short presentation of the ITI territory. Minister Jevšek underlined that sustainable urban development in the frame of the ITI approach will be supported under three specific objectives of the European Cohesion Policy Programme 2021-2027. Sustainable urban development that addresses economic, climate, demographic and social challenges will be supported on the basis of territorial strategies with urban municipalities at the forefront.
Due to the fact that in 2023 the implementation of the financial perspective 2014-2020 will be drawing to a close, and the implementation of the new multiannual financial framework 2021-2027 will begin, the meeting also focused on the operational implementation of joint cross-border integrated territorial investments for urban development in the period 2021-2027. In the 2014-2020 period, the ITI approach was identified as a good practice at the EU level, which is why in the 2021-2027 period, its implementation will remain unchanged, that is by applying the bottom-up principle. Special attention will be given to addressing environmental and climate challenges, in particular, the transition to a climate-neutral economy by 2050, tapping the potential of digital technologies for innovation, revitalisation of urban areas (social, economic), and supporting the development of urban areas.  
Participants of the meeting also briefly discussed the subject of the European Capital of Culture to be hosted in 2025 by Slovenia and Germany. Nova Gorica and Gorizia (Italy), which wish to become the cross-border capital of culture, will represent Slovenia.