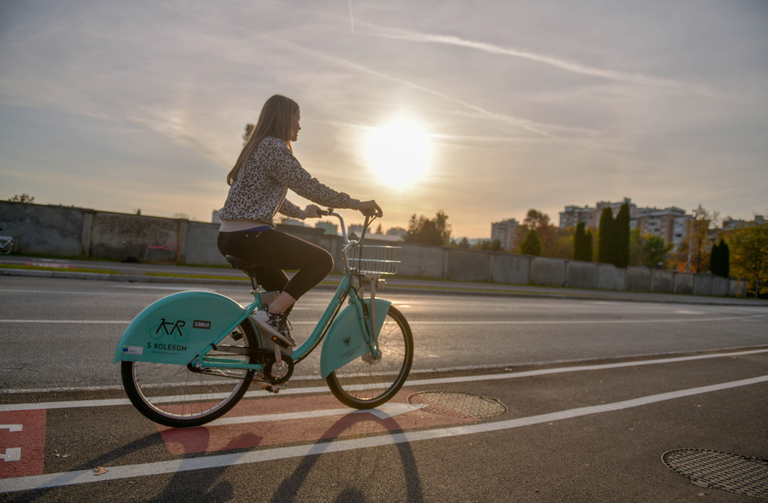 Ljubljana, 13 December 2021 – Between mid-November and mid-December 2021, the Government Office for Development and European Cohesion Policy approved EU funding for a cycling connection in Kranj and cycling routes in Ptuj and Murska Sobota. The three investments are the latest in a series of projects that aim to foster sustainable mobility and provide safe and comfortable cycling routes. Over the past seven years, a total of EUR 115 million has been invested in cycling infrastructure, which resulted in the development of some 490 kilometers of bikeways across Slovenia.
Supported by the Cohesion Fund, the cycle project of Urban Municipality Kranj includes the development of the missing cycling infrastructure and associated equipment, and provision of the relevant pedestrian infrastructure and utility infrastructure, like drainage, street lighting and bicycle parking, along so-called cycling connection 10 that runs between the sports park Kranj and the bus station on the Cesta Staneta Žagarja road in the inner city.
As part of its latest Cohesion Fund-supported cycle project, Urban Municipality Ptuj intends to develop cycling infrastructure adjacent to the existing municipal road to connect the Dornavska cesta road and the Ormoška cesta road. The existing sidewalk will be expanded to become a two-way cycle track; a bridge for cyclists will also be built across the Grajen creek.
Urban Municipality Murska Sobota intends to reconstruct several sections of its cycling network under the latest ERDF-funded cycle project. To this end, sections on Lendavska ulica street, on Gregorčičeva ulica street (with the roundabout with Ulica Staneta Rozmana street and with the roundabout with Ulica arhitekta Novaka street), on Slomškova ulica street (with the roundabout at Gregorčičeva ulica street) and on Zvezna ulica street will undergo reconstruction.
Slovenia has so far invested about EUR 115 million in EU funding in cycle projects in the funding period 2014-2020 to provide over 490 kilometers of cycling connections across the country.