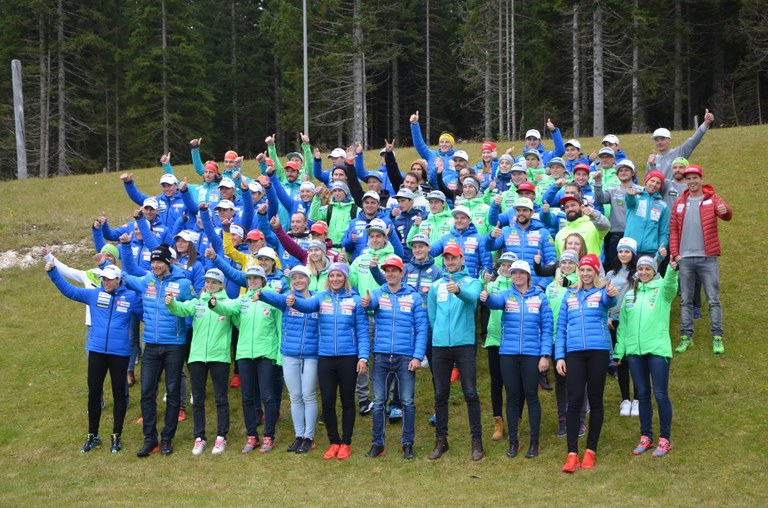 Pokljuka, 4 October 2017 – Ski Association of Slovenia in partnership with the Ministry of Education, Science and Sport, Ministry of Economic Development and Technology and Government Office for Development and European Cohesion Policy today hold an event dubbed ''Towards Success in Sport with EU Funding – Winter Heroes at Pokljuka'' which was carried out at the Pokljuka Sports Centre. National teams under the auspices of  the Ski Association of Slovenia and government representatives met with over 350 primary school children to raise awareness of the benefits of physical activity and healthy lifestyle among young people, including through programmes implemented under the 2014-2020 EU cohesion policy. The event was supported by Alenka Smerkolj, Minister for Development, Strategic Projects and Cohesion.
In the morning, the athletes joined some 350 children for a sports quiz, and later for a competition in running and shooting. The aim of the event was to raise awareness of the impact of physical activity on health and promote a healthy lifestyle among young people in a relaxed and fun atmosphere and through the influence of athletes as important role models to young people. Also, the event was held to inform the general public of the health promotion programmes Slovenia has been successfully delivering with the EU financial support.
Alenka Smerkolj, Minister for Development, Strategic Projects and Cohesion stressed that the Pokljuka Sports Centre was one of the most visible EU-funded sport projects in Slovenia. Thanks to the project, natural, cultural and other potentials of the area were fully tapped to speed up the development of tourism services, especially of sport and recreation torism, which enhances the attractiveness and boosts the development of the region. According to Smerkolj, the added value of the co-financed sport infrastructure lies in that it can be used both by recreational and professional athletes, and that it can work as a community gathering place where recreational and professional athletes, school-age children, visitors and tourists meet. ''Good sport and recreation infrastructure helps us motivate citizens to make healthier lifestyle choices'', she added. It goes without saying that young people should be at the heart of the healthy life agenda – such events are held to get the young encouraged to embrace the concept of healthy lifestyle, build lifelong habits of regular physical activity and strengthen their physical capacity.  
Minister Smerkolj drew attention to the Healthy Lifestyle programme, one of the most successful health and social inclusion promotion programmes targeting children in Slovenian primary schools, which is co-financed by the European Social Fund. The programme seeks to fight and reduce social exclusion and reduce inequalities in health, and excells in having an extremely positive impact in terms of improving physical capacity and body build, increasing participation in the programme, instilling a positive attitude towards sports and acknowledging health benefits of sport participation, including for mental health, personal growth and development, and for the elements that give an overall picture of an individual's health status.  
Similarly, the programme Young for the Young advocates healthy lifestyle, and focuses on providing jobs for young graduates in sports education and kinesiology which include, among others, provision of organised physical activity for students and secondary school pupils. Regular physical activity will importantly improve health condition and motor skills of programme participants, maximize their work efficiency and productivity at a later stage, and in turn boost economic and social development.    
''Economic and social development is the headline objective we have been pursuing. And we have EUR 3.2 billion that have been made available to Slovenia under the 2014-2020 EU cohesion policy by 2020 or 2023 to achieve this objective,'' added Smerkolj who emphasised that more than 250 programmes, projects and call for proposals worth over EUR 1.3 billion have already received green light. They join nearly 6,000 projects that were realised in the previous programming period 2007-2013, including the projects in the field of sport infrastructure. The sport projects that most stood out in the previous period include, for example, Planica Nordic Centre, Bonifika and Podmežakla sports halls, Stožice Stadium, and Ljubljana Gymastics Centre; yet, we should not overlook a number of minor but nonetheless important projects that also foster a healthy and active lifestyle on a daily basis.