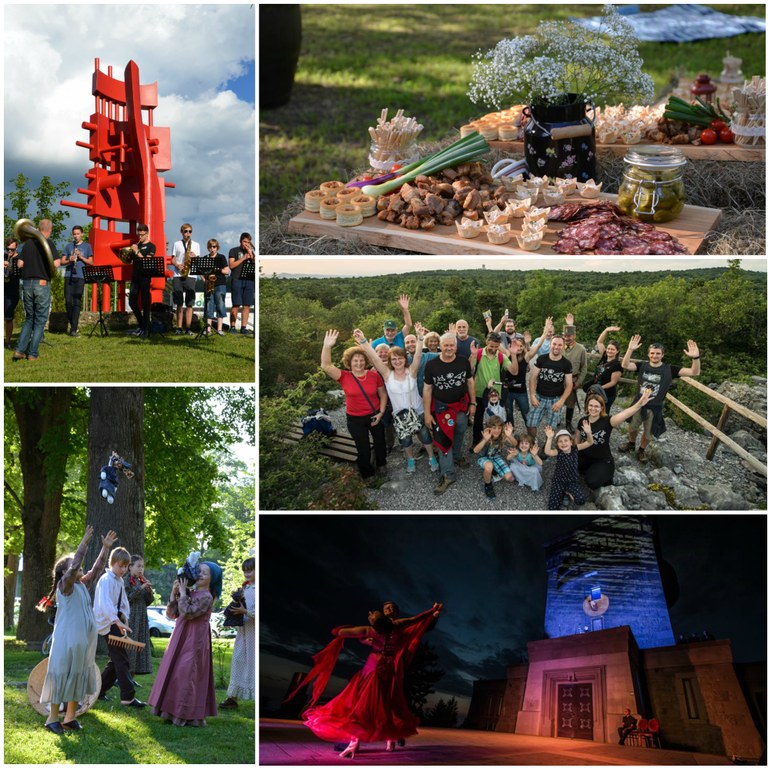 Ljubljana, 12 June 2017 – Friday and Saturday saw a series of twelve events on the occasion of the EU Project, My Project 2017 Open Days when twelve EU-funded projects opened their doors to visitors. These projects were voted as best projects in each Slovenian statistical region under the EU Project, My Project 2017 campaign.
Twelve winning projects, nominated and voted for by people via our online voting at www.eu-skladi.si opened their doors to visitors on the occasion of the open days event. This year, Government Office for Development and European Cohesion policy gave voice to Slovenian citizens to nominate and vote for EU-funded projects which most convinced them in their region. More than 63,000 people participated in the campaign; the twelve winning projects which opened their doors offered fun, creative, educational and interesting content to their visitors.
The EU Project, My Project open days were eventful, to say the least. To kick off, school-age children, even kindergarten children in Velenje, Šoštanj and Šmartno ob Paki learned about the importance of clean drinking water in the scope of the project Drinking water supply in the Šaleška dolina valley. This environmental infrastructure project delivers safe, reliable and sustainable supply of drinking water to about 45,000 inhabitants of the Šaleška dolina valley. Slovenian rapper 6pack Čukur encouraged the young in Murska Sobota to choose skill shortage occupations, while others could try themselves in basket weaving. Visitors in Maribor flocked to the sign language bar where they could order alcohol free drinks served by deaf and hard of hearing in sign language which was the main attraction of the Regional Hub of NGOs of the Podravje Region. The Sevnica castle took its visitors centuries back with a dance of noblemen and noblewomen which wrapped up with a romantic concert by Slovenian singer Alenka Godec. Ljubljana treated its visitors to a rich theatre and literature programme which featured rapper Trkaj and stand up comedian Pižama. Visitors in Postojna were able to taste some of local homemade dishes the primary school children got to talk about in the scope of the PESCA project. After a hike atop the Cerje hill to the Memorial to the defenders of the Slovenian homeland, the visitors were greeted with a stunning sound and light show. Beautiful Saturday afternoon was perfect for a picnic among the Forma Viva steel sculptures in Ravne na Koroškem, or along the Krka River where visitors could give a go to stand up paddling on the river while famous Slovenian band Čuki played in the background. We did not forget seniors as well. Residents in the Taber nursing home were treated to a dance and a party with the band Ognjeni muzikanti, while those at coast, in Koper could try themselves in Nordic walking and taste products of local organic farms. Visitors to Steklarna Hrastnik found inspiration for drawing on glass in musical performance of the band Tabu.
Alenka Smerkolj, minister responsible for development, strategic projects and cohesion visited two projects, i.e. ''Include & Activate'' in Ljubljana and ''Competence Centre for Human Resources Development Steklar'' which was implemented in Steklarna Hrastnik, a glassworks company. She commended every single person involved in the implementation of the EU cohesion policy for their effort, as the projects would not have been so successful without their input. According to Smerkolj, many success stories of individuals, companies and organisations that received support from the European Social Fund, the European Regional Development Fund or the Cohesion Fund too often go unnoticed, which is why the Government Office for Development and European Cohesion Policy decided to launch the EU Project, My Project event three years ago and has continued to launch it ever since. Slovenian authorities wish to spread the word about the indelible traces left by the EU-funded projects across Slovenia. With each job created, each participation in training programmes, each kilometre of a road, cycling route or railway constructed, each square metre of a research and educational infrastructure built, each incentive for enterprises offered and each health service improved we create opportunities for further successful development of our country.