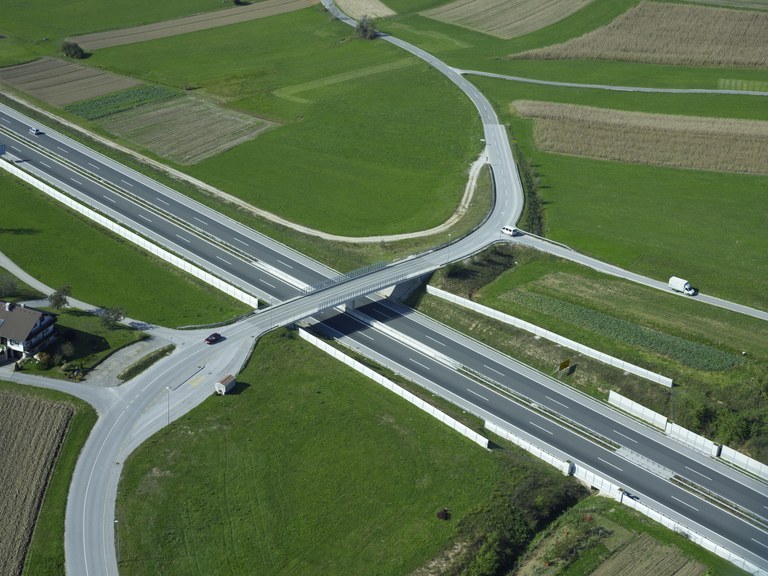 Ljubljana, 9 September 2015 – Government Office for Development and European Cohesion Policy, acting as the Managing Authority for EU Structural and Investment Funds, has approved the project Reconstruction of state-road bridges. The project worth nearly EUR 5 million will receive EUR 3.5 million of European Regional Development Fund support under the 2007-2013 Cohesion Policy implementation.
The project aims to reconstruct ten bridges and bridging structures that have been damaged to such an extent that they are no longer safe, namely the section in Podnart (reconstruction of the bridge over the Sava River), section in Šempas (construction of a new replacement culvert over the Vitovšek stream), section at the Škrlinov grad castle (construction of a replacement bridge over the outflow of the Socka stream into Pirešica), section in Lokavec and Jurklošter (construction of a replacement bridge over Gradnica), section in Polzela (construction of a replacement bridge over Hotunjščica), section in Petrovo brdo (construction of two replacement culverts), section in Trojane (reconstruction of a viaduct over the avalanche) and a section in Prestranek (reconstruction of the bridge over the Pivka River).  
The ten new bridging structures will ensure adequate bearing capacity of the facilities and prolong their usage. Improving the technical elements of the roads and the facilities will result in a steadier ride and smoother traffic flow and thus also the reduction of greenhouse gas emissions and noise pollution. A section of the roads that connect to the bridging structures will also be reconstructed and expanded with certain sections also having a corridor for pedestrians. All the above-mentioned will improve traffic safety and the safety of all road users. The project will also result in preserving the connections between the settlements.     
In light of the limitations of the state budget, the EU funding will make an important contribution to finalising a group of projects by the end of 2015. The reconstruction of individual bridges has already begun with the funding from the state budget two years ago. EU funding will be used to enable allocating state budget resources, which are in 2015 used for payments to contractors and for finalising the existing projects, for other state road projects.    
For additional information please contact the Ministry of Infrastructure and the Slovenian Infrastructure Agency.
PHOTO: Matevž Kostanjšek