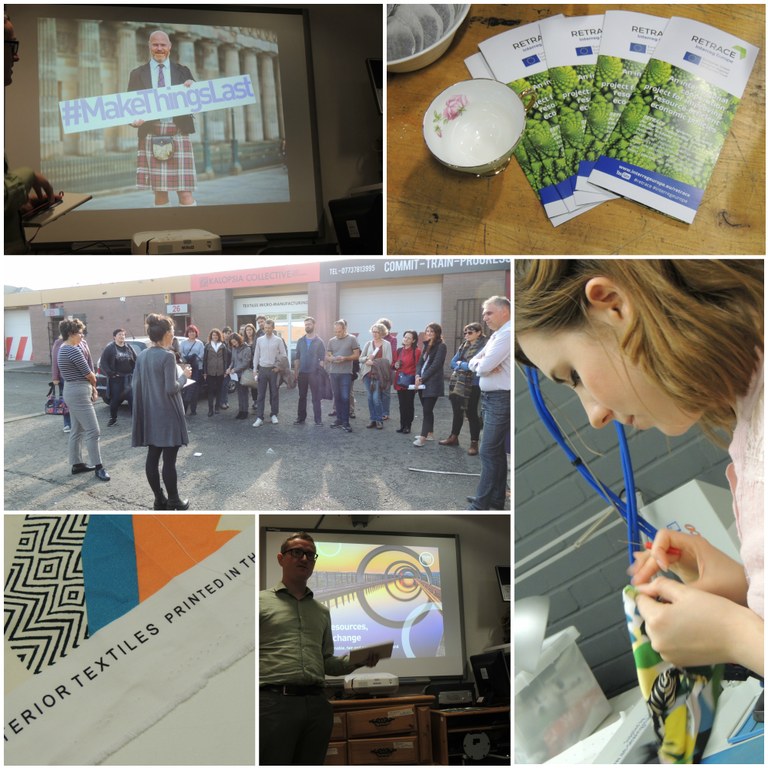 Edinburgh, 25-26 September 2017 – Consortium and stakeholders of the project Retrace which seeks to promote systemic design as a tool and method allowing regional and local policies to make transition into a circular economy participated in a field visit in Scotland. Slovenian delegation included representatives of the Government Office for Development and European Cohesion Policy, the Ministry of Economic Development and Technology and the Ministry of the Environment and Spatial Planning.
During the field visit, which was hosted by Scotland and organised by the lead partner Politecnico di Torino in association with Zero Waste Scotland, the participants got to learn about Scottish good practices in circular economy. Zero Waste Scotland is this year's winner of the ''Circulars Award'' presented at the World Economic Forum Annual meeting in recognition of its breakthrough achievements in promoting and delivering circular economy.  

Project partners and stakeholders got to know Scotland's experience in delivering circular economy through Zero Waste Scotland, an organisation which supports the implementation of the Scottish Government's circular economy strategy and makes direct intervention in the form of finance for businesses, design of business models and training and competence development in the field of transition to a circular economy. Scottish Environment Protection Agency – SEPA which helps shape environmental legislation, and works with businesses to raise awareness of their environmental impacts and of the benefits of transition to a circular economy was also visited. Participants in the field visit also looked into the work of Industrial Biotechnical innovation Centre for Scotland whose role is to increase the commercial value of research by stimulating connections between industry, academia and government and facilitating collaborations, creating networks and developing skills. 

Further on the field visit agenda were Horizon Proteins which develops processes for the recovery and re-use of protein and energy from fermentation and distillery by-products, and company Celtic Renewables whose pioneering process combines two main by-products of whisky production to produce high value renewable products, next generation biofuels. Cellucomp, on the other hand, is focused on development and commercialisation of new products developed from the extraction of nano-cellulose fibres of sugar beet. Participants in the field visit also got to learn about good practices in innovative services and products. Thus, for example, Scottish Institute for Remanufacture works with academia and companies to support excellence and help increase innovation in remanufacturing – it currently participates in 30 projects. Edinburg Remakery, a re-use and repair store is focused on upcycling computers, furniture and clothes and making them ready for re-use, while Mackies Transmissions have been remanufacturing automotive transmissions and are a global supplier of remanufactured transmissions. Kenoteq is a spin-off clean technology company whose first invention – unfired brick with 90 % recycled content from demolition and waste – has already been patented. Kalopsia is a textiles micro-manufacturing company which helps SMEs reduce textile waste.  

Field visits are one of the key activities of the project Retrace which is implemented in the scope of the Interreg Europe Programme and is co-financed by the European Regional Development Fund. Project partners and stakeholders have already been on field visits to partner regions in Italy, France, Spain, Romania, Slovenia, the Netherlands, and, this time in Scotland – the last two are considered pioneers of circular economy.