Ministry of Economic Development and Technology (MEDT) is the managing authority for the EU structural funds, including the Objective 3 programmes – European territorial cooperation programmes, Instrument for Pre-Accession Assistance and the Cohesion Fund.
For Cohesion Policy 2007–2013 implementation Slovenia is eligible to 4,101,048,637 € in the framework of the three operational programmes (Operational Programme of Environmental and Transport Infrastructure Development, Operational Programme for Strengthening Regional Development Potentials, Operational Programme for Human Resources Development). This is the amount Slovenia can receive from the European Commission in the period 2007–2013.
(click on the photo to enlarge)

(click on the photo to enlarge)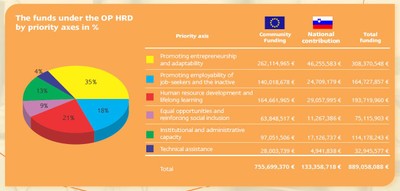 (click on the photo to enlarge)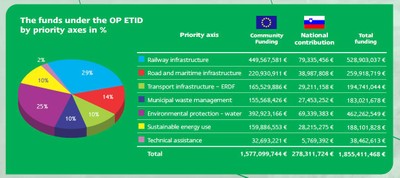 Besides the above-mentioned operational programmes, Slovenia is in the financial period 2007–2013 also involved in the European territorial cooperation programmes. Together with its partners Slovenia is eligible to almost 300 million EUR. Slovenian applicants can take part in five cross-border programmes, namely the Operational Programme Slovenia–Austria, Operational Programme Italy–Slovenia, Operational Programme Slovenia–Hungary, Operational Programme IPA Slovenia–Croatia and the Operational Programmes IPA Adriatic Initiative.
As a partner state Slovenia also cooperates in four transnational programmes, namely OP the Alps Area, OP the Mediterranean, OP Central Europe in OP South-Eastern Europe.