Piškotki, ki jih uporabljamo:

Google Analitycs

Z namenom pridobivanja statistike o obiskanosti spletne strani.

Specifični

Specifični piškotki, ki so nujno potrebni za delovanje naše spletne strani.
Events
Document Actions
Here you can find about the upcoming events related to Cohesion Policy implementation.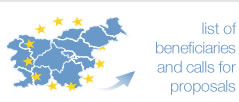 Did you find the information of this web page useful?